Sunny, the Mischievous Colt
Wednesday, September 1, 1999: Indeed, Sunny, the mischievous colt, did find trouble on that early-August night! A moose, a deer, a raccoon, a skunk - something had spooked him, and judging from the horizontal scrapes across his fuzzy chest, and the deep, gaping wound above one knee, he must've hit one of the barbwire fences. As I patched him up, I remembered how he'd nearly died at birth, and I wondered, How much trouble is this little horse going to get into during the next eighteen years?
...Sunny was born about 4 o'clock on a very frosty Sunday morning, April 11, 1999. Spring was having a rough time finding Sublette County. Crusted snow still lay upon the ground, nearly one-foot deep, and for the past two weeks, our hearts sank each night at sundown when the Arctic air forced the thermometer to nearly fifteen degrees below zero. It was calving time, so each night my husband Rudy and I were running the cattle night shifts. On our way back to the house, we would always stop at the horse barn to check four-year old "Millie", Sunny's soon-to-be mom.
That night, when we peeked through the barn door, sweaty steam was rising from Millie's exhausted body, like evaporating rainfall on a damp, summer highway. She nickered softly, then groaned. In the glow of my flashlight, I could see both of the colt's front feet protruding from beneath her tail, but each time Millie pushed, nothing happened. I soon discovered that with each contraction, the colt's nose pushed dangerously against her pelvic bone, so I reached into the birth canal and maneuvered the colt's nose back into position. We took hold of the colt's slippery legs and pulled, carefully. It jerked at its long, scrawny legs, and I thought,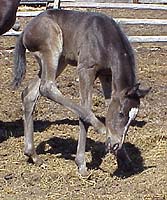 Thank Heavens, it's still alive! Soon he lay in the hay at our feet gasping in his first breath, his little wet body glistening in the dim barn light. I rubbed dry the tips of his ears, so they wouldn't freeze and fall off, then left the rest to the mare's instincts.
We named this little German Chocolate busybody, "Sunny", because he was born on a Sunday - the only day the sun had even tried to shine in over three weeks... Sunny's hard birth and nearly-healed wire cut have given him a bit of a feisty, untrusting attitude, but since his mom is such a sweet, gentle mare, I think Sunny will eventually break out to be a dandy, ranch saddle horse. I'll be halter-breaking him this November, after he's weaned.
Wednesday, September 15, 1999: I caught my roan colt this morning and moved him from the horse pasture into one of the nearby corrals. After the summer break from riding him, it's time to start knocking the rust off and get him going again.
Taz is a good-looking horse; put together really well and can sure cover the ground, easily. I've got a total of 40-50 rides in on him, but he's still considered only green-broke. He's one of those unpredictable colts that you've got to be darned careful around - the kind of horse a person will always have to watch. I don't dare ever "go to sleep" on him, even for one second, or he'll goose right out from under me. And I don't ever trust him not to buck at the slightest notion or kick at anything that walks by.
In June, we were moving cows out in the brush, and my dog accidentally bumped into his heels. The danged horse promptly jumped ahead, and like Hank Aaron whopping a home run, Taz plastered the poor dog, hard, on the shoulder, knocking him silly for about 30 minutes. The colt is arrogant and aloof and will never make a friend. I know he's just biding his time and waiting his chance, so I've nicknamed him "Joe Black"...
Sunday, September 12, 1999: Midnight - A skunk, driven by a wild, pre-hibernation feeding frenzy, was eating pellets in the cowdogs' pen. I discovered him when I turned the dogs out of my house, where they like to sleep for a spell during the evening time. The minute their paws hit the front porch, and they sniffed the cool air, the hair sprang up on their backs. The two younger dogs tore off into the blackness, not sure exactly what it was that they were after, but Lacy, the old, crippled, black dog knew immediately that a varmint was hiding somewhere very near to us. I hollered the dog herd back, so they wouldn't set off the skunk's alarm,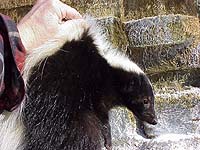 then grabbed the flashlight, and cautiously stepped into the kennel.
Something stirred beneath the tall grass and weeds in the far corner. As I edged closer, I could see those tell-"tail" black and white hairs poking up from the grass.
For years, old timers have told me, "Crissie, girl, if you can git a skunk picked up off the ground, quick as a wink, you won't git sprayed."
Well, I gotta tell you, I've practiced their "surefire" method, and for several years now, I've managed the ranch's very successful, odorless skunk-snatching sport, especially with the raiders of the chicken coop. Last night, however, I did not fare so well, because when I stooped over my "project" and skillfully laced my fingers into the skunk's long, tail hairs, and tried to swiftly snatch him upwards, I immediately found that I had one heck of a monster critter clawing at the ground on the other end. I let go of the tail, and the skunk burrowed into the corner, still farther.
It was late, and I really didn't have the heart to shoot this skunk, so I foolheartedly took another try at his taunting tail. But, this time, when I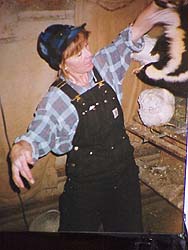 stooped to pull the grass away from his backside, he really lost his patience, and fairly and squarely, let me have it. A putrid, jelly-like spray shot across the night like water from a super-soaker water pistol and hit me in the face and hair, burning my hide like fire under a grilling beefsteak. By now, the "damage" was done, so I grabbed up a short board, stuck it behind his tail, and herded him out of the doghouse. It didn't take Mr. Skunk long to duck under the fence and disappear into the night. I think I'm going to remember this close encounter for the next few days. Score this round for the varmint.
Saturday, September 18, 1999: This past week, autumn rode down hard on the Daniel Valley. Last night, our heaviest killing frost of the season flexed its claws. Our thermometer skidded to 15 degrees and froze about a quarter-inch of ice on the chickens' water bucket. We've finished our haying season and drained the water out of the old machinery, so this freeze isn't quite as critical to our operation. All the round-bale stack yards are closed up and fenced, and last week, we tucked the last of the little square bales into the feeders and haylofts for our spring calving season and turned the cows and calves into the fresh meadow grass. We'll be selling our calf crop soon and want them to be in the best shape possible.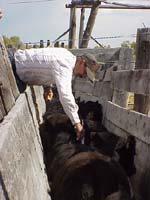 Friday, September 24, 1999: At daybreak last Saturday, we pulled up the cinches on our horses, then trotted three miles cross-country to Horse Creek where we rounded up our Black Angus cattle. Cows move easier when the weather is cool, and at a nippy 18 degrees, it danged sure kept us all moving. After we trailed 'em to the home corral, we spent the rest of the day branding the "slicks" (calves that missed the branding iron this past spring) and giving calfhood booster shots.
This was also an initiation day into the work force for Bo and Bonnie, our year-old Australian Shepherd/Heeler cow pups. They have a remarkable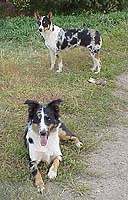 natural instinct when it comes to understanding a cow, and they don't ever bark unless a critter threatens to run full length of 'em. Bo is quite aggressive, while Bonnie is slightly shy about getting the job done. Both dogs easily respond to my verbal chatter and are starting to work well with hand commands. (That's Bonnie standing in the back and 'Mr. Taking a Rest' Bo in front.)
And then there's my old, faithful cowdog, twelve-year old Cindi. Cindi is stove up with arthritis and is missing a few teeth from biting cows' heels then forgetting to duck. She has a permanent limp after losing a battle with a willowed-up, one-ton bull a few years ago, and her eyes are clouded from years of makin' her way through the trail dust. Yes, Cindi's supposed to be retired, but somehow she always shows up in the herd to help with the work she loves.
After we finished pushing the calves through the chute, we drove the herd back to pasture. Cindi had rested in the shade of my saddle horse most of the day, so when we rode out, I thought I'd talked her into waiting at the house. But about fifteen minutes into the ride, I looked back and spotted her limp-waltzing across the meadow toward the wheel end of the cows. It's a good thing she showed up, though, because the cows were being miserable, stopping to graze and quitting the trail to drink from the boggy sloughs.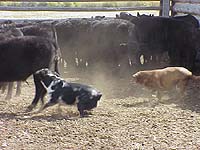 We were short-handed, and Bo and Bonnie didn't know quite what to do to get the cows lined out, so Cindi plunged headlong into the water and came up biting cattle noses, tails, and heels. Soon, she had the ol' mommas (and the young dogs) lined out again and raisin' one heck of a dust.
But it wasn't long, and we were disrupted once more. The cows were marching along the alkali path, pretty as you please, when suddenly a cow and calf moose ran up behind us, spooking our horses and startling the dogs. When the moose finally saw us, they sure put it in another gear, scattering cows as they made a break for the solitude of the nearby swamp willows.
We regrouped again and 45 minutes later, we pushed the last calf through the last gate, then turned our cowponies for home. By then, Cindi was totally worn out. I could tell she would never keep up with our fast, ground-covering pace, so I was in a fine fix.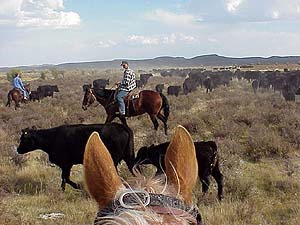 Heavy clouds had boiled up over the Wyoming Range, and the wind was hell-bent to drive a soaker straight over the top of us, so we kicked our horses into a fast lope. I hollered back to the struggling old dog, promising her I'd be back on the 4-wheeler to rescue her. I worried all the way home about leaving her behind on that lonesome road, because it's a hot spot where coyotes trail back and forth hunting rabbits, mice, and old dogs, if they're left alone too long.
Before we made it home, the rain did pepper us, and even though the horses wanted to turn their butts into the wet west wind, we pushed them still harder into the storm's drumbeat.
When I found our faithful "old cowhand" about 45 minutes later, she was sitting in the buckbrush about a mile from home, catching her breath. She kept cocking her head nervously toward the foggy swamp. I squinted into the mist, but couldn't spot the reason for her concern and figured we both must have gotten lucky. When I lifted her onto the bike seat in front of me, she seemed to be grinning, I was certain, because I'd kept my promise.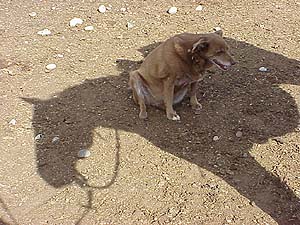 Cindi sitting in Jasper's shadow
Sunday, September 26, 1999: Rudy hauled a trailer load of small calves to the Riverton Livestock Auction, 175 miles from the ranch. Now, the moms are bawling their heads off, missing their offspring, but they'll settle down in a couple of days. We sold Heidi the milk cow's 500-pound calf, too. She has a good bag with plenty of milk, so I'll keep milking her for a couple more months. She'll give about two gallons of milk each day till about mid-November, then I'll dry her up for the winter. We drink her fresh, rich milk, make whipped cream and butter, and my mom also likes to make cottage cheese and brick cheese.
Monday, September 27, 1999: Today, Mother Nature blew snow in our faces for the first time this season. We moved some tailenders to fresh feed and checked the other cattle for sick calves and made sure their salt supply was holding up.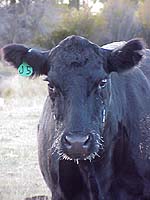 Seems like whenever a bitterly cold day lopes into the valley, the boss says, "Saddle up! We're gonna move some cows." My hands ached to the bone, and I shivered all day long in the icy face of this Arctic front. It'll take me a couple of weeks to build up a callused, second skin and a suitable attitude to deal with the coming winter weather. We're chopping wood and building a fire each morning and evening to take the chill off, and we're keeping plenty of camp coffee simmering in the coffeepot. Gotta butcher off the old hens, soon, and make a kettleful of homemade chicken and noodles and biscuits.
Thursday, September 30, 1999: One of the older Black Angus bulls climbed over the pasture fence while we were eating supper. He's been irritated ever since we moved a few cows and calves out of his pasture a few days ago. The dogs barked a warning and we knew immediately that something was going down.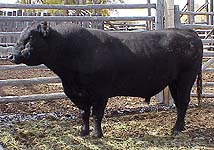 I looked out the window just in time to see 2000 pounds rear up and over the barbwire fence and land quite gracefully in the lane. Like a couple of firemen, Rudy and I lit a-runnin' to head the bull off before he got on the highway; a "run in" with this big guy will total a vehicle and could seriously hurt the occupants. It's sometimes hard to know what sets a bull off, but this one must have "pinched his tail in a gate sometime this summer." He was mad as a wet cat, so we didn't want to irritate him further, so we called the excited dogs behind us and eased the ton of trouble into one of the corrals for a "time out" until he settled down. We'll feed him a bait of hay for a few days, and then we'll move him to a new place with some of his bull buddies.