August 6, 1999 - Nighttime visit to the hen house
Friday, August 6, 1999: It was pitch-black last night when I set out to gather the eggs and lock the hen house door. The raccoons, hungry for adventure, had already begun their nocturnal prowling around the barnyard. As I clumsily picked my way through the dried cow crap and scattered river rock, I could hear the little bandits slinking through the weeds by the cow chute, and I sensed their curious maraudings in the hayloft, stirring up the barn cats. I mumbled an irritated curse to my forgotten flashlight, but stubbornly forbade myself backtracking to its spot on the porch window ledge.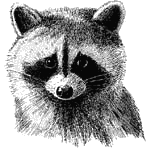 I blindly slid my hand along a knotted corral pole, then nervously jerked it back as the fragile webs of huge preying wolf spiders tore and snapped against my fingertips. When I reached the gate near the chicken coop, I paused to listen to the gasping old water tank motor as it sucked and heaved, rhythmically satisfying its thirst. I filled a coffee can with eggs from the straw-filled nests, while mosquito wings and feet tap-danced across my face. Then, one by one, they fell to their bloody work in the small of my neck. I slapped at the air, rattling the can of eggs, and cussed the high-pitched song of their fevered feast.
When I headed back to the house, a lonesome nicker echoed from somewhere deep in the river-bottom pasture. The brown mare was calling to her colt, Sunny, and I smiled faintly, thinking of how mischievous he could be. But the mare's call sounded wrong - somehow misplaced in the normally quiet pulse of the night. My eyes strained against the heavy darkness, and I worried aloud, "What the heck kind of trouble was Sunny finding tonight?"